Author: Dirk Hagemann
Difficulty: easy
A good guitar solo can be compared to a speech. If the speaker puts just one sentence ofter the other, the audience will be bored. With pauses and emphasizes you´ll always get the attention of your listeners. That might sound complicated, but it´s very simple! Just listen to the intro of the great song "Crosscut Saw" by Albert King and you´ll know what I mean!

 Listen to mp3: Crosscut Saw Intro
You find the belonging GuitarPro file in the Download section at the bottom of this page!
It would be very handy for this exercises if you have a metronome. For PC Users are freeware metronoms available. You can find two in the download section on the bottom of this page!
For this lesson we´re using the notes of the first two patterns of the A-Minor pentatonic scale. Start slow and adjust your metronome to a slow bpm. Take a 12-Bar-Blues in A as suggestion and create your own licks. Start with 2 notes, take a pause and start to develop a feeling for the playing.
Suggestion: Play this exercise with single notes! See how much feeling you can express with just a single note. You´ll be surprised!
Here are the notes of the first two patterns of the A-minor pentatonic scale. Take these notes to play your licks! 
Am-Pentatonic-Pattern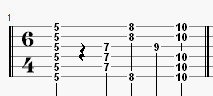 Exercise I: Pentatonic-Phrasing

 Listen to mp3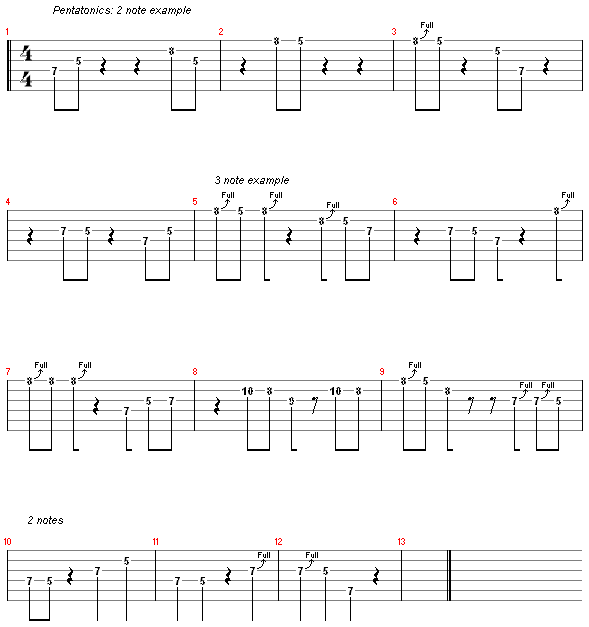 Exercise II: Arpeggio-Phrasing
Standard Am-Arpeggio 

Let single notes out when you play the arpeggio and give the other notes room to ring.Take these exercise just as an example and create your own phrasings! You can take the midi as backing track or use a metronom for your exercise.
Note: there´s no rest/pause tab symbol. So I used the % symbol where I skipped a note. Listen to the midi so you can get an idea of what I mean!

 Listen to mp3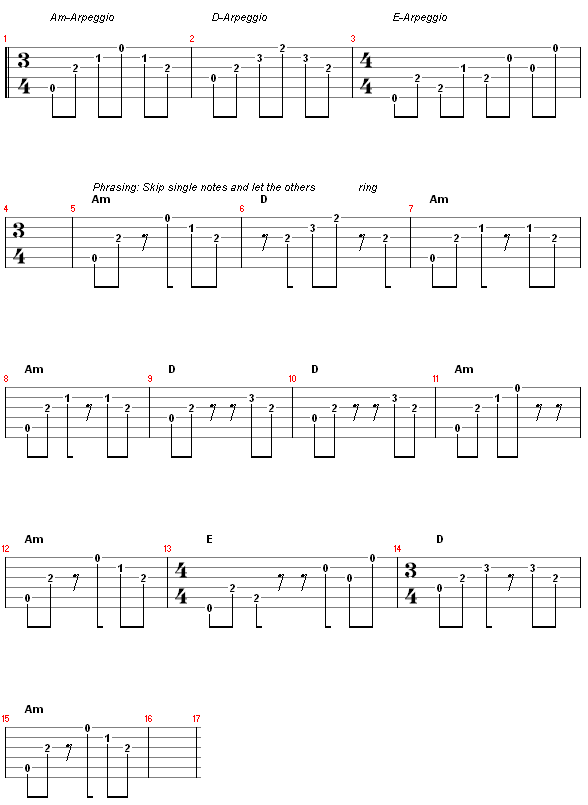 Phrasing Exercise III:
Play a riff in one bar and let the bass or rhythm guitar play the next bar. Then play a lick again, pause one bar etc.

 Listen to mp3



 Pentatonic Phrasing

 Arpeggio Phrasing 
---
BluesLesson.net Ebook - "Easy to learn Blues Guitar"
Learn to play Blues the easy way
This guitar course (about 70 pages) is especially written for people who are quite new to playing guitar.
Here you will find all you need to learn how to play the Blues:
* All beginner lessons are included in this ebook!
* You start from the first 12-bar-Blues to your first Blues solo licks.
* You´ll learn about Blues chords, the Blues scale, bendings, vibratos, slide guitar and much more!
...more Information